Dr. Diane Monrad, 2019 SIC Advocate of the Year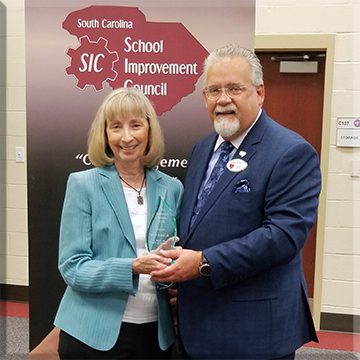 L to R: Dr. Diane Monrad, Executive Director, SC Educational Policy Center, University of SC; Tom F. Hudson, Director, SC School Improvement Council
Dr. Diane M. Monrad is a Research Associate Professor in the Department of Educational Leadership and Policies at the UofSC College of Education, and is Director of the College of Education's SC Educational Policy Center. Over the past 30 years she has managed a variety of educational evaluation and policy research studies. Dr. Monrad has extensive research experience in program evaluation, educational policy analysis, and assessment of educational reform programs. She has served as principal investigator for a number of education efforts across the state on magnet programs, reading initiatives, gifted education, gap-closing schools, principal evaluation, teacher specialists in low-performing schools, and school climate.
Dr. Monrad holds the Ph.D. and M.A. in Psychology from Johns Hopkins University, and the B.A. in Psychology from Duke University, and she is the author of numerous publications and reports, and co-author of a book on assessment titled Put to the Test.
Prior to joining the SC Educational Policy Center in 1995, Dr. Monrad was a researcher for the SC School Improvement Council. Since that time, she has been an ardent supporter of the roles and value of SICs and the impact they can have on school improvement, leadership development, and positive school climate. She herself has served as both an elected and appointed member of School Improvement Councils throughout the years, and has continuously advocated for their support and advancement on the College, school, local, and state levels.
Congratulations and thank you, Dr. Diane Monrad!