SC-SIC Training Information
SC-SIC is offering virtual training during the pandemic. District-level SIC Virtual Trainings require an RSVP and are open to the first 100 participants.
**************************************************************************************************************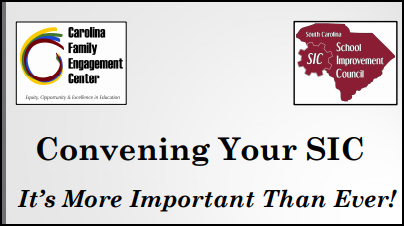 Convening Your SIC - It's More Important Than Ever!
SICs can function even during social distancing. You can still hold parent, teacher, and student (high school) elections using electronic/low tech methods. You can still appoint community members by email or phone. Ex-Officio members can be notified by email, text, or phone. SICs can hold virtual (and/or phone) meetings monthly. Learn how, and get tips, from this video on YouTube!   Get the handout here.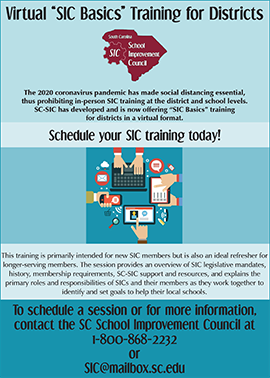 The 2020 coronavirus pandemic has made social distancing essential, thus prohibiting in-person SIC training at the district and school levels. SC-SIC has developed and is now offering "SIC Basics" training for districts in a virtual format.
This training is primarily intended for new SIC members but is also an ideal refresher for longer-serving members. The session provides an overview of SIC legislative mandates, history, membership requirements, SC-SIC support and resources, and explains the primary roles and responsibilities of SICs and their members as they work together to identify and set goals to help their local schools.
Contact your SIC District Contact to arrange a virtual "SIC Basics" training!
 
Completed trainings:
Thursday, 02/18, 6:00 pm
"SIC Basics" – E.L. Wright Middle School
Karen Utter, Trainer
12 Trained!
Thursday, 01/28, 6:00 pm
"SIC Chairs training" – Richland One School District, Keenan Cluster
Karen Utter, Trainer
6 Trained
Thursday, January 14, 5:30 pm
SIC Basics Virtual Training – Satchel Ford Elementary SIC
Tom F. Hudson, Trainer
11 Trained
Tuesday, 01/12, 6:00 pm
SIC Basics Virtual Training – Charleston County School District
Tom F. Hudson, Trainer
RSVP: Ms. Maggie Dangerfield, 833-937-6394, maggie_dangerfield@charleston.k12.sc.us
24 Trained
Tuesday, 01/05, 5, 5:30 pm
"The Role of the SIC Chair" – Richland One School District, Eau Claire cluster
Karen Utter, Trainer
15 Trained
Thursday, 12/17, 4:30 pm
SIC Basics Virtual Training – Lancaster County School District
RSVP: Ms. Angela Vaughan, 803-416-8812
Tom F. Hudson, Trainer
36 Trained
Tuesday, 12/15, 6:00 pm
SIC Basics Virtual Training – Lexington-Richland District Five
RSVP: Ms. Sharon Loadholt, 803-476-8118, sloadhol@lexrich5.org
Tom F. Hudson, Trainer
16 Trained
Friday, 12/11, 6:00 pm
SIC Basics Virtual Training – Orangeburg County School District
RSVP: Dr. Tasha Louis-Nance, 803-534-5454
tasha.louisnance@ocsdsc.org
Tom F. Hudson, Trainer
10 Trained
Monday, 12/07, 8:30 am
SIC Basics Virtual Training – Barnwell School District 45
Tom F. Hudson, Trainer
RSVP: Ms. Jaci Bearden, 803-541-3590
15 Trained
Friday, 12/04, 1:00 pm
SIC Basics Virtual Training – Orangeburg County School District
Tom F. Hudson, Trainer
RSVP: Dr. Tasha Louis-Nance, 803-534-5454
25 Trained
Thursday, 12/03, 11:00 am
SIC Basics Virtual Training – Lancaster County School District
Tom F. Hudson, Trainer
RSVP: Ms. Angela Vaughan, 803-416-8812
58 Trained
Thursday, 12/03, 5:30 pm
SIC Basics Virtual Training – Richland District 2
Tom F. Hudson, Trainer
RSVP: Ms. Kelli Johnson, 803-738-3328
36 Trained
Thursday, 11/19, 6:00 pm
SIC Basics Virtual Training – Hilton Head Island Elementary SIC
Tom F. Hudson, Trainer
Beaufort County School District
15 Trained
Wednesday, 11/18, 9:00 am
SIC Basics Virtual Training – A.C. Moore Elementary SIC
Tom F. Hudson, Trainer
Richland District 1
9 Trained
Tuesday, 11/17, 5:00 pm
SIC Basics Virtual Training – Hampton School District 2
Tom F. Hudson, Trainer
23 Trained
Tuesday, 11/17, 12 noon
SIC Basics Virtual Training – Greenville County Schools
Tom F. Hudson, Trainer
30 Trained
Thursday, 11/12, 6:00 pm
SIC Basics Virtual Training – Charleston County School District
Tom F. Hudson, Trainer
68 Trained
Monday, 11/02, 2:00 pm
SIC Basics Virtual Training – Parent Engagement Specialists
Karen Utter, Trainer
Richland District 1
16 Trained
Thursday, 10/29, 1:30 pm
SIC Basics Virtual Training – Clarendon District 2
Karen Utter, Trainer
16 Trained
Tuesday, 10/20, 6:00 pm
SIC Virtual Overview – Irmo High SIC
District 5 of Lexington & Richland
12 Trained
Thursday, 10/08, 7:30 am
SIC Basics Virtual Training – Hand Middle SIC
Tom F. Hudson & Karen Utter, Trainers
Richland District 1
8 Trained
Monday, 09/21, 2:00 pm
SIC Basics Virtual Training – Virtual SIC Meetings & Elections
Karen Utter, Trainer
Richland District 1
21 Trained
Monday, 09/14, 2:00 pm
SIC Basics Virtual Training – Virtual SIC Meetings & Elections
Karen Utter, Trainer
Richland District 1
8 Trained