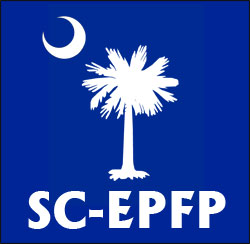 A 10-month professional development program for established and emerging leaders in education and related fields designed to work toward the  implementation of  sound education policy and practice in South Carolina.
2018-19 applications due August 24, 2018
 
BY:
Engaging stakeholders
Enlarging networks
Developing leaders
Deepening understanding
Honing skills
Creating consensus
Building capacity
The Education Policy Fellowship Program (EPFP) was created in 1964 by the Institute for Educational Leadership in Washington, DC, in anticipation of the explosive growth of the federal role in education under the 1965 Elementary and Secondary Education Act (ESEA). The transformed federal role in education generated a need for education professionals in the states who understood the content of federal legislation, the policy process and the complex changes state systems were undergoing as a result. For more information visit Education Policy Fellowship Program.
Today there is no topic more central to the future of our state and nation than education. Myriad challenges to education posed by new changes in federal level policy, the national recession and severe state budget cuts that threaten South Carolina's focus on educational accountability and improvement add urgency to the need for education leadership statewide. South Carolina's EPFP is developing an influential cadre of sophisticated, broad-minded and well-networked leaders representing all stakeholder groups who will take action to improve the future of our state through education improvement and reform.
The SC-EPFP program features a variety of activities designed to promote leadership, develop professional networks, demystify education policy and foster understanding of the role of government and the grassroots in creating and implementing policy and practice. Fellows will learn from experts working in education and other fields relating to children and families and will engage in dialogue with key decision-makers affecting public policy. Professional networks will be enriched as Fellows build relationships with high-caliber professionals and share their diverse points of view and expertise in their workplaces and communities.
SC-EPFP meets monthly September through June primarily in Columbia for a full day of dialogues, interactive exercises, small group projects, book discussions, and more. An overnight Leadership Forum is scheduled in the Fall and a four-day Washington Policy Seminar hosted by the Institute for Educational Leadership is held in the nation's capitol in April. Educators may qualify for recertification or certificate renewal credits. (Option 6 or 10.) Graduate credits may also be available; please inquire.
SC-EPFP 2018-2019 Application (PDF)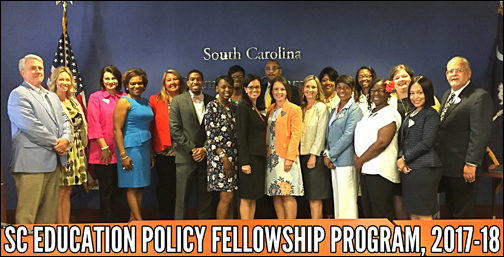 SC-EPFP is coordinated by Tom F. Hudson, Executive Director of the South Carolina School Improvement Council, part of the Center for Educational Partnerships within the University of South Carolina College of Education, with support from Bruce Moseley Director of the SC Department of Education's Office of School Leadership. Mr. Hudson and Mr. Moseley are SC-EPFP alumni. For more information about SC-EPFP, please contact Mr. Hudson at 803-777-7658 or 800-868-2232.
SC-EPFP Advisory Board:
SC Association of School Administrators
SC Department of Education
SC Schools Boards Association
Clemson University
SC Chamber of Commerce
SC Education Oversight Committee
University of South Carolina
SC-EPFP Alumni members:
Dr. Sallie Cooks and Ms. Virginia Catoe