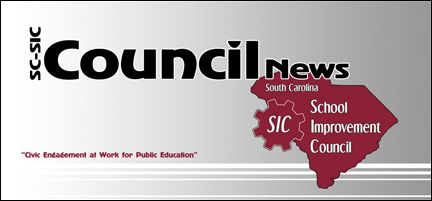 Council News, Volume 39, Issue 1 (PDF)
Please Save the Date!
$5 Million Grant To Foster More Family Engagement in SC Schools 
From the Executive Director
Four Elected To SC-SIC Board
Picture This! 4 Steps To Understanding Copyright Issues
Notice About The SC-SIC Website
Council News, Volume 38, Issue 5 (PDF)
From the Executive Director
Laurens District 55 High SIC Awarded for Annual Report to the Parents
SC-EPFP to Begin Accepting Applications for 2018-19 in June
Help Make Parents Feel Welcome All Year Round
Whose Responsibility Is It To Facilitate Digital Equity?
Council News, Volume 38, Issue 4 (PDF)
2018 SC-SIC Annual Meeting Scheduled for April 14
Five SICs Named 2018 Finalists for Annual State Riley Award for SIC Excellence
Executive Director's Message
"Digital Native" Volunteers: Kids Giving Back Online
SC-EDFP Recognized for 15 Years of Leadership
Community Engagement: Hearing From More Than the Vocal Minority
SIC Reports to the Parents Due by April 30
Council News, Volume 38, Issue 3 (PDF)
What Every Family Should Know About SC Read to Succeed
Three Join SC-SIC Board of Trustees
Executive Director's Message
How Schools Are Steering Social Media
12 Characteristics Distinguishing Schools of Engagement
17 Named to SC Education Policy Fellowship Program
Council News, Volume 38, Issue 2 (PDF)
SC-EPFP Accepting Applications for 2017-18
Literacy Projects for SICs: Building Classroom Libraries in Elementary Schools
Executive Director's Message
Protecting Student Data
Parent/Student Summer Resources
SCDE Seeks Comment on State's Draft ESSA Plan
SC-SIC Board Seeks Nominations
Council News, Volume 38, Issue 1 (PDF)
Ellen M. Still Named 2017 SIC Advocate of the Year
South Pointe High SIC Named Winner of 2017 Riley Award for SIC Excellence
Executive Director's Message
Changes to the Member Network3
Using the SC-SIC Logo
SIC Spotlight
SC-SIC Honor 2017 Roll
Report to the Parents Reminder
Council News, Volume 37, Issue 5 (PDF)
Executive Director's Message
2016 SIC Legislator of the Year
Share the Word About Your SIC
SC-EPFP Accepting Applications
Family-Friendly Guides to SC Standards
Presentation on Outreach Inspires SIC Action
Attention Member Network Users
Council News, Volume 37, Issue 4 (PDF)
Executive Director's Message
Boost Staff Morale by Creating a Culture Founded in Effective Communication
SC-SIC Launches New Website Design
SICs and the Role of Student Voice in Improved School Climate
Council News, Volume 37, Issue 3 (PDF)
Executive Director's Message
Parents Launch Holiday Book Drive
SC-EPFP Program
ParentCamp-The Unconference
What Is Digital Citizenship
Council News, Volume 37, Issue 2 (PDF)
SC-SIC Board Nominations
SC-EPFP Accepting Applications
Social Media App Guide
Reaching out to Hispanic Families
More Effective Communication
Council News, Volume 37, Issue 1 (PDF)
Evans, Horton, and Jacques join SC-SIC Board of Trustees
Seven local SICs named to SC School Improvement Council Honor Roll for 2015
Executive Director's Message
Increasing SIC Effectiveness
Why Social Media? And What?
Utter Named SC-SIC Coordinator of Council Services
SC-SIC Annual Meeting
SIC Report to the Parents
Council News, Volume 36, Issue 2 (PDF)
Interim Director's Message
SC-SIC Legislator of the Year
Generate Survey Responses
Riley Awards
SIC Elections
Schedule SIC Trainings
Council News, Volume 36, Issue 1 (PDF)
Interim Director's Message
New SC-SIC staff
Barber leaves SC-SIC
Parent Surveys Can Help
Council News, Volume 35, Issue 1 (PDF)
Director's Message
SC Economics
PACES Program
Two Named to Board
Thirteen named to SC-EPFP